Industry Standard Production Bond Testing
STELLAR 4000 is the platform of choice for all manually operated pull and shear production bond testing. Configure as a simple bond wire pull tester, or upgrade for ball shear, die shear, bump pull, and tweezer pull testing.
Industry Leading Precision
The high-quality frame is built to last, with a rugged design to ensure years of smooth operation. STELLAR 4000 incorporates Nordson core technology and is fully compatible with existing 4000 load cartridges. Use your existing or new load cartridges to guarantee accuracy, repeatability, and correlation: the system is designed for ultimate system-to-system consistency to always give you the same pass/fail results.
If you're looking for a semiconductor testing standard, you will get the desired result with STELLAR 4000.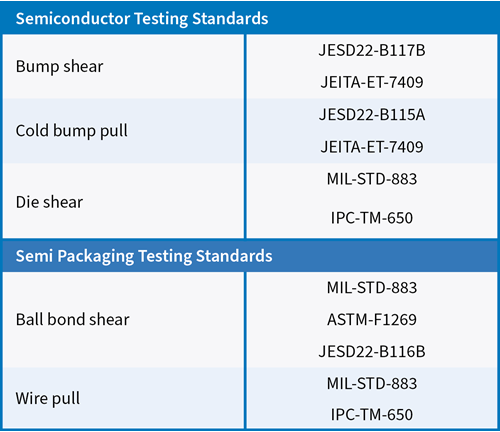 Maximum Operator Comfort
STELLAR 4000 is extremely easy and comfortable to use so operators can test for prolonged periods without risk to their health. Our antivibration optics, and dimmable lighting reduce eye strain on operators during long sessions. Test working heights also mirror the 4000series and the controls are the most adjustable and configurable on the market. As standard the system comes with soft, padded arm rests to ensure STELLAR 4000 is a pleasure to use.
Perfect for Semiconductor
STELLAR 4000 caters for the needs of Semiconductor manufacturing, beginning with the clean room friendly, enclosed design. It has also been assessed to SEMI standard S2 environmental health and safety, and SEMI standard S8 ergonomic standards.
Rest assured that you will benefit from fast setup as the intuitive Paragon™ Lite software ensures you can release into production quickly.